Residential Furnace & Heater Replacement
Services in Centerville, OH
If you're in need of residential furnace and heater replacement services in Centerville, OH, our team of experts is here to help. We specialize in providing top-quality installation and replacement services for all types of heating systems.
FULLY INSURED & LICENSED
Our HVAC employees are fully insured with general liability coverage and worker's compensation.
Dependable & Experienced
Centerville Heating & Cooling has provided Centerville, Ohio homeowners with HVAC for many years.

100% Satisfaction Guaranteed
We guarantee you'll be fully satisfied with your HVAC services. If you aren't, let us know and we'll try to make things right.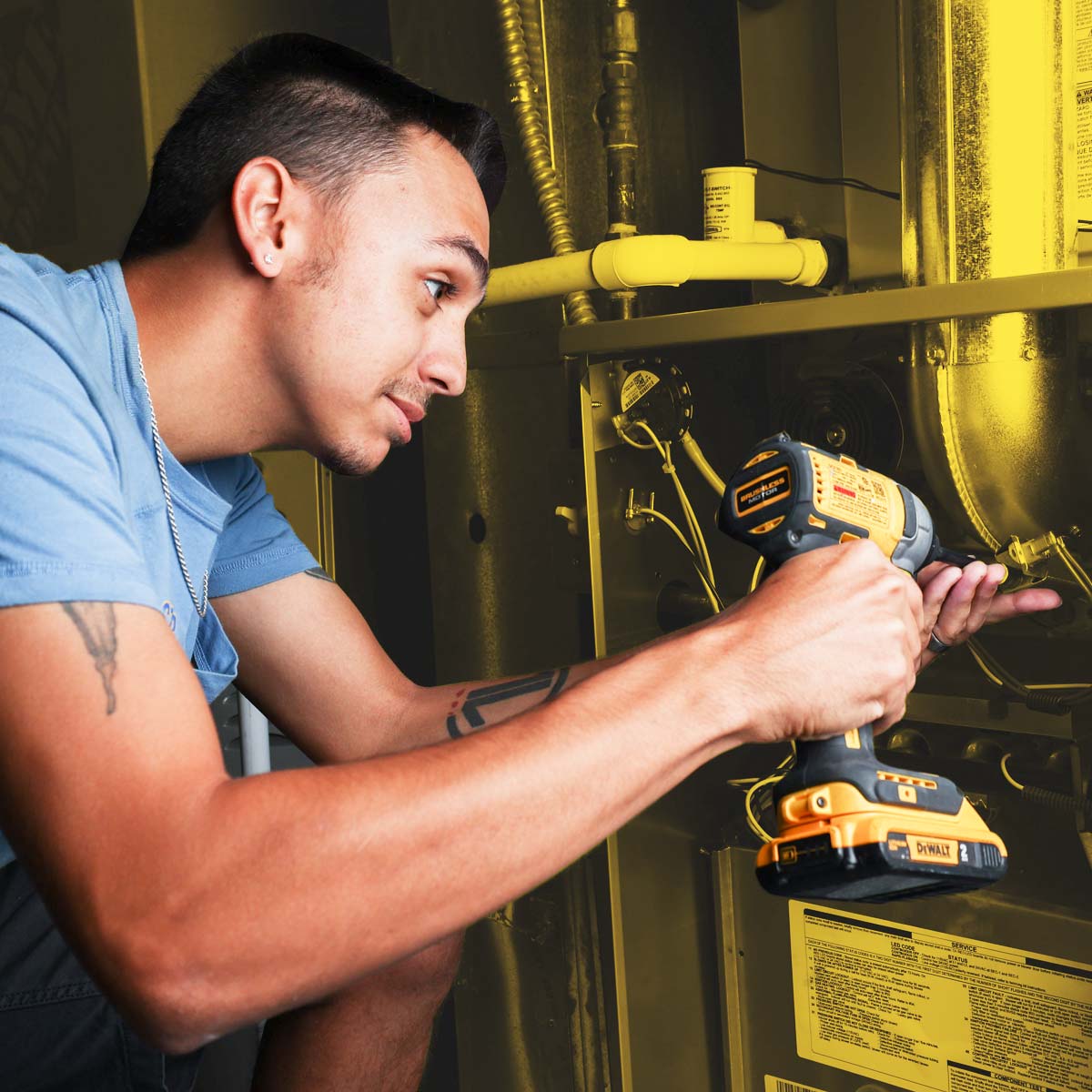 When Is It Time to Replace Your Heater?
The useful life of a furnace is considered to be 15-20 years. Heat pumps tend to last 10-15 years. Both numbers depend on a number of factors. If the previous owners of your home attempted to save money during the life of the home with Do-It-Yourself maintenance, they probably skimped on important tasks because of inexperience. Or, perhaps maintenance was not performed at all. Some manufacturers are better than others, or the original installation and equipment sizing might have been botched.
It's frequently more economical to replace a central heating system than keep an old one going. The challenge is you may not know your heater is on its last leg until you've spent almost the amount it would take to replace it on useless repairs. Add to that the stress of untimely breakdowns, when you could easily be enjoying a more comfortable home and lower utility bills. Who needs that kind of frustration? Our experienced licensed HVAC technicians will examine your heating system and let you know whether repair or replacement makes sense
Replace vs. Repair
Every now and again, we're called by a flustered homeowner for a "major" problem that's easily resolved with a minor fix (i.e. dirty filter, clogged drain tube, blocked exhaust vent, debris in the fan blades, loose wiring). Sometimes, the exact opposite happens.
Here's a quick checklist to let you know when it's time to call a licensed HVAC technician:
Frequent Repairs needed (excluding seasonal maintenance)
Energy Bills increasing, even though energy usage remains the same
Burner Flame in gas furnaces in an odd color. It should be blue, so watch for orange or yellowish flame as a clue.
Uneven Heating, meaning that some rooms may get warm while other rooms stay cold
Listen for unusual noises, like a sizzling, crackling, popping, buzzing, or humming
Obvious Physical Deterioration, like water leaks, rust, corrosion, or a crack in the heat exchanger
Unwanted, increased humidity, as in the heat in the system isn't pulling moisture from the air
Contaminated Air, including dust particles, soot, possible carbon monoxide
Top 4 Signs You Need a Furnace Replacement
Discover the top 4 signs that you need a furnace replacement. These signs include your furnace's age (15 to 20 years old), it needs frequent repairs, it's less efficient, and it's making strange noises. If any of these symptoms are happening to your furnace, contact the HVAC professionals at Centerville Heating & Cooling today! You can trust Centerville Heating & Cooling to complete your furnace replacement, expertly, professionally and at a price you can afford.
1. Your Furnace is 15 to 20 Years Old
The lifespan of most furnaces is somewhere between 15 and 20 years. Regular maintenance will help your furnace last longer. Do the following to keep your furnace at its best:
Change your filter regularly
Get regular maintenance done
Change your thermostat batteries
2. Your Heating Bills Are Soaring
There are a number of factors that affect the amount spent on your energy bills, including the rising cost of fossil fuels. If you notice a steady increase in your heating costs over the past few years, then it may mean that you need a furnace replacement.
3. Your Furnace Needs Frequent Repairs
If your furnace requires frequent repairs, it could mean that it is time to replace it. Furnaces need the most repairs during the last two years of their life. Just like an old car, as a furnace gets older the repairs become more often and more expensive. There comes a point when you will need to decide whether or not it is worth the money to keep sinking into repairs. So if your furnace is constantly breaking down then it may be telling you that it's time you replaced it.
4. Your Furnace Is Making Strange Noises
You will be familiar with the different noises your furnace makes. As a furnace gets older and starts to wear out it may begin to make some strange noises. If you start to hear unusual and unfamiliar sounds that you haven't heard before coming from your furnace, it's time to take notice. Call a professional to take a look at it if you hear any of the following before it becomes a serious issue:
Grinding
Screeching
Banging
Rattling
Popping
If you're experiencing issues with your heating system in Centerville, OH, don't hesitate to call. We're ready to help!
Big Savings on HVAC Services in Centerville, OH
10% off Service Call
Book Now
$69 Furnace Tune-Up + Safety Check
Save $30 | Regular $99
$0 Instant Online Estimate
Simply fill out our form to get a quote from Centerville Heating & Cooling. One of our friendly representatives will respond shortly after submission. If you'd like to speak to someone directly by phone, give us a call at (937) 353-1169.
HVAC Financing
Buy Today, Pay Over Time with HVAC Financing
To help you pay for your new home comfort equipment, your local HVAC specialists have a rapport with numerous lenders, creditors and financial institutions to help you maintain your comfort levels year-round and make monthly payments to pay off the new equipment efficiently in a period of time that works best for you.
Customer Reviews
Our customers love the interactions that they get with our techs. Here are just a few comments from some of our outstanding clients.
This was the first time I had called the company for service when my A/C compressor went out. He came in on time and was able to pinpoint right away what the issue was when checking the unit. The capacitor had went bad, but he had another one on hand that he was able to quickly install and test, which got the unit back running once again. Quick, professional, and knowledgeable, Hassan was great and helped me get things running again at a really hot time of the year. Will definitely think of them again when the time comes!
Very knowledgeable, and explained everything to me in a professional way that I could understand.
Celine Ledesma
2021-08-08
Hassan did an awesome job replacing my thermostat! He was very thorough in checking to make sure there were no other issues with the AC system as well. He was prompt and on time. After contacting the company late on Saturday they were able to fit me in the very next day. They have a good team of people.
I had a great experience with the replacement of our home HVAC system. The installers did a great job. The AC works great, just in time for a decent period of hotter weather. I'm confident furnace will work well come winter.
Jonathon Prater
2021-08-04
Called this morning to see when someone could check out our AC and they were able to come out today. Donnie gave me a call 15 min before he arrived and found the issue within minutes of being here. He stayed to talk to our home warranty over the phone and everything was settled promptly. Highly recommend this company!
stephen grossman
2021-08-04
Excellent service by Josh. Very professional and Knowledgeable