Residential Indoor Air Quality Products &
Services in Centerville, OH
Indoor Air Quality and home comfort go hand in hand, Centerville Heating & Cooling offers Miami Valley Ohio area homeowners a wide selection of products and services to improve indoor air quality and create a cleaner, safer, healthy environment for all. From thermostat upgrades to UV light system installation, we've got you covered.
FULLY INSURED & LICENSED
Our HVAC employees are fully insured with general liability coverage and worker's compensation.
Dependable & Experienced
Centerville Heating & Cooling has provided Centerville, Ohio homeowners with HVAC for many years.

100% Satisfaction Guaranteed
We guarantee you'll be fully satisfied with your HVAC services. If you aren't, let us know and we'll try to make things right.
What is Indoor Air Quality?
Indoor Air Quality is a term that refers to the grade of air inside homes and buildings, especially as it relates to the health and comfort of the homes' occupants. This means people living in the home as well as people visiting and staying. National studies performed by the Environmental Protection Agency(EPA) indicate indoor air can be three to five times more polluted or impure than outdoor air. This seeming rise in indoor air pollution is likely due to modern-day building practices in addition to items being used in homes. The building practices are designed to save money. To be more energy-efficient and keep heated and cooled air inside, today's houses are built airtight with more insulation than ever before.
Why Is Indoor Air Quality Important?
Many studies nationwide have revealed that contaminated air in our homes can be more of a health concern than outdoor air pollution. Indoor pollutant levels are often a lot higher or worse than levels outside. Basically, there are three main reasons why indoor air quality is becoming more of a health concern in homes throughout the nation:
The average American spends about 90% of their time indoors.
Harmful chemicals are used inside the home in building materials, cleaning solutions, furnishings, pesticides, cooking, smoking and personal care products.
Modern homes are built air-tight and often lack adequate ventilation.
Our Indoor Air Quality Products & Services Include: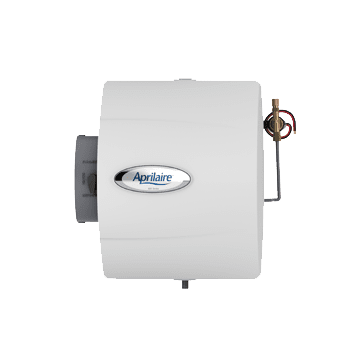 Humidifiers
A whole-house humidifier installed on your home's HVAC system can make the air more comfortable by adding important moisture. Dry air can cause dry skin and a scratchy throat, and annoying static electricity, among other symptoms.
Dehumidifiers
On the other hand, if your home's interior air is too moist, it can invite mold and mildew to grow and pollute the air. The purpose of a dehumidifier is to dry up the air and make it safe and breathable again.
Ultraviolet Lights
A UV light installed within your HVAC system or ductwork will destroy airborne bacteria or dirt before it reaches you.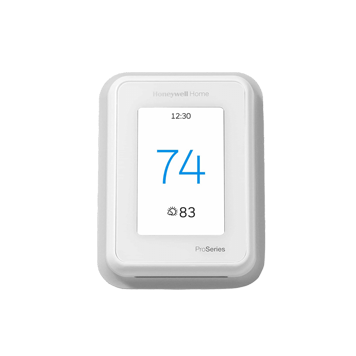 Wi-Fi & Smart Thermostats
Smart thermostats are great investments that pay for the minimal cost of installing one quickly. Upgrading to a smart HVAC device is an inexpensive solution for many inconveniences and inefficiencies.
iWave-R Air Purifier
Need a low-cost solution that eradicates airborne pathogens while also removing odors from your house? We encourage you to consider the iWave-R Air Purifier.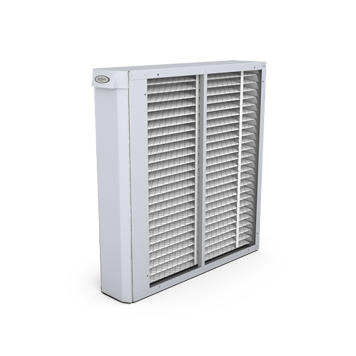 Media Air Filter
Upgrading to a Media Air Filter will purify your home's air supply and remove everything from insecticide dust to flu viruses, germs, pollen, dust, and more.
If you're experiencing issues with indoor air quality in Centerville, OH, don't hesitate to call. We're ready to help!
4 Benefits of Optimal Indoor Quality
Indoor comfort and air quality go hand in hand, and Centerville Albany Heating & Cooling goes beyond home comfort to offer healthier indoor air conditions for all. Below are some of the advantages of better indoor air quality:
1. Better Sleep
With fewer contaminants and pollutants in the air of your home, you'll have less of a chance of experiencing throat irritation which can lead to restless nights. It's easier to sleep in a home with optimal indoor air quality. You'll achieve much better sleep once you've reduced the allergens and pollutants in your Centerville, OH home.
2. Better Moods
It might sound silly, but it's factual, better air quality equates to a better mood! The American Psychological Association reported that cleaner air helps to keep you and your family happier and more content. Scheduling regular heating and cooling maintenance is the best way to improve your indoor air quality and mood.
3. Fewer Allergens
Using an air cleaner or air purifiers in your Centerville, OH home will remove allergens and other contaminants from the air. It will also eliminate dust, bacterial, dander, and more. With the removal of indoor air pollution, you'll notice you're breathing easier with less sneezing and eyes, nose, and throat irritation.
4. Fewer Toxins
Lastly, improving indoor air quality leads to fewer toxins in your Centerville, OH home. It's very important to ensure that toxins aren't floating in the air of your home because they might lead to major health problems down the road. Air purifiers remove excess carbon dioxide, radon, volatile organic compounds, and more.
If you're experiencing issues with your indoor air quality in Centerville, OH, don't hesitate to call. We're ready to help!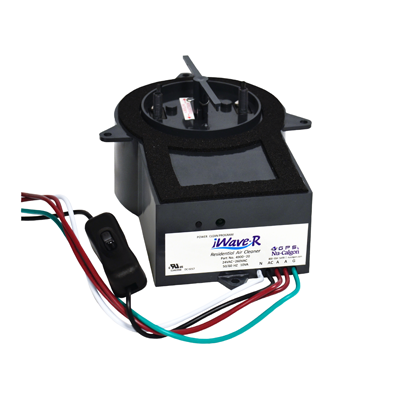 Featured Product: iWave-R Air Purifier
The iWave-R is a relatively new technology that stands out because it's highly effective, affordable, and innovative when compared to all the indoor air quality products on the market today. The iWave-R neutralizes and kills airborne viruses, bacteria, mold, pathogens, and allergens while also eradicating other kinds of particles generating odors in the home.
Because of its size, price, and exceptional ion technology, it's proven to be highly effective in purifying the air in a home. One of the best things about this indoor air quality product is that it doesn't create any ozone byproducts due to the process and its self-cleaning, which makes it very low maintenance.
$899 iWave-R Air Purifier + Installation
Limited Residential Duct Cleaning Available in Centerville, OH
We offer residential air duct cleaning during certain times of the year. Our Limited Residential Duct Cleaning ductwork can help Central Ohio area homeowners improve indoor air quality, although this service is only offered during certain times of the year. Using specialized tools to dislodge debris and dirt build-up in the ductwork, our technicians perform a thorough cleaning of your home's air duct system. After dislodging anything, we also perform a thorough sanitization process to wash away anything left behind effectively. During this process, we can check your air filter and change it if needed, in addition to performing a final test to assess system performance and ensure everything is working properly.
Customers interested in ductwork cleaning should call for more information. Below are the Top Five Benefits of Air Duct Cleaning:
Improves air quality
Reduces allergens and irritants
Removes unwanted odors and smells
Improves air flow
Helps everyone breath easier
3 Warning Signs of Poor Indoor Air Quality
Are you a homeowner experiencing one of the following warning signs of poor indoor air quality in Centerville, OH, if so, we encourage you to call Centerville Heating & Cooling today at for professional advice. We offer all sorts of products and services to improve all air quality situations.
Air Circulation Problems
If the air doesn't pass through your HVAC unit, it doesn't get filtered and purified before entering the rooms of your house. In addition, problems with low airflow from your vents or air leaks in your ductwork increase the number of airborne contaminants in your home and throw off indoor humidity levels.

Musty Odor
Musty odors are telltale signs of mold growth. If the odor is more pronounced around your vent registers or while your HVAC system is running, it's a major red flag. Mold produces a musty odor because it releases organic microbial compounds that are volatile as it grows. Exposure to these compounds can cause headaches, dizziness, nausea, and fatigue.

Frequent Allergies & Illness
The EPA says short-term symptoms of poor indoor air quality include eye, nose, and throat irritation, as well as fatigue, dizziness and headaches. Poor air quality in a home can also aggravate pre-existing conditions like asthma. Indoor pollutants can carry the risk of heart or respiratory disease and even cancer, although reactions to pollutants will vary from person to person. 
If you're experiencing issues with your indoor air quality in Centerville, OH, don't hesitate to call. We're ready to help!
Big Savings on HVAC Services in Centerville, OH
$299 Wi-Fi Thermostat + Installation
Save $100 | Regular $399
$399 Whole-House Air Cleaner + Installation
Save $100 | Regular $499
$399 Blue Tube UV Germicidal Light System + Installation
Save $100 | Regular $499
HVAC Financing
Buy Today, Pay Over Time with HVAC Financing
To help you pay for your new home comfort equipment, your local HVAC specialists have a rapport with numerous lenders, creditors and financial institutions to help you maintain your comfort levels year-round and make monthly payments to pay off the new equipment efficiently in a period of time that works best for you.
Customer Reviews
Our customers love the interactions that they get with our techs. Here are just a few comments from some of our outstanding clients.
This was the first time I had called the company for service when my A/C compressor went out. He came in on time and was able to pinpoint right away what the issue was when checking the unit. The capacitor had went bad, but he had another one on hand that he was able to quickly install and test, which got the unit back running once again. Quick, professional, and knowledgeable, Hassan was great and helped me get things running again at a really hot time of the year. Will definitely think of them again when the time comes!
Very knowledgeable, and explained everything to me in a professional way that I could understand.
Celine Ledesma
2021-08-08
Hassan did an awesome job replacing my thermostat! He was very thorough in checking to make sure there were no other issues with the AC system as well. He was prompt and on time. After contacting the company late on Saturday they were able to fit me in the very next day. They have a good team of people.
I had a great experience with the replacement of our home HVAC system. The installers did a great job. The AC works great, just in time for a decent period of hotter weather. I'm confident furnace will work well come winter.
Jonathon Prater
2021-08-04
Called this morning to see when someone could check out our AC and they were able to come out today. Donnie gave me a call 15 min before he arrived and found the issue within minutes of being here. He stayed to talk to our home warranty over the phone and everything was settled promptly. Highly recommend this company!
stephen grossman
2021-08-04
Excellent service by Josh. Very professional and Knowledgeable