Indoor Air Quality in Centerville, Ohio
Indoor air quality and your comfort is of the utmost importance to our technicians. With Centerville Heating & Cooling we can offer you a wide variety of indoor air quality solutions to keep your air clean and improve the longevity of your HVAC system.  
Indoor air quality is essentially when you consider the amount of time most people spend in our homes. In a post-pandemic world, indoor air quality is important now more than ever. We know this at Centerville Heating & Cooling better than anyone. We offer a wide array of products that not only target the more obvious sources of air contamination that come from our cooking, cleaning and usual daily activities, but also unseen contaminants floating around in your air supply and ductwork — things like bacteria, viruses and mold, which often have long term respiratory affects.  
FULLY INSURED & LICENSED
Our HVAC employees are fully insured with general liability coverage and worker's compensation.
Dependable & Experienced
Centerville Heating & Cooling has provided Centerville, Ohio homeowners with HVAC for many years.

100% Satisfaction Guaranteed
We guarantee you'll be fully satisfied with your HVAC services. If you aren't, let us know and we'll try to make things right.
What is Indoor Air Quality?
As indicated by the name, "Indoor Air Quality" is a term that refers to the quality and cleanliness of breathing air inside buildings and homes, especially as it pertains to the health and safety of the building's occupants. In residences, this means people living in the home as well as people visiting. National studies conducted by the Environmental Protection Agency indicate indoor air can be three to five times more polluted or contaminated than outdoor air. This rise in indoor air pollution and contamination is most likely due to modern day building practices in addition to materials being used in homes. These building practices are designed to save money. To increase the energy efficiency and retain heated and cooled air inside, today's dwellings are built airtight with more insulation than ever before. 
Increasing our air quality dilemma, modern air tight homes don't have natural ventilation to bring in fresh air. Everyday living, from pets to kids and guests in and out of the home generates airborne contaminants like dirt, dust, and allergens. Homeowners should be mindful of these contaminants and the effect it can have on their health. Many kinds of pollutants  become trapped in homes due to poor ventilation and are recirculated in the home's air ducts. To improve air quality and mitigate contaminants, Centerville Heating & Cooling offers a wide array of products and services that work with and inside your HVAC system. 
Why is IAQ Important?
Many studies nationwide have shown that air pollution and contamination in our homes can be a greater health hazard than outdoor air pollution. Indoor pollutant levels are often, in fact, a lot higher than levels outside your home. Essentially, there are three main reasons why indoor air quality is a more important cause for health concern in homes throughout the nation: 
The average American spends about 90% of their time indoors.

 
Harmful chemicals are used inside the home in insulation and drywall, cleaning solutions, vinyl flooring, pesticides, cooking, and personal hygiene products.

 

Modern homes are built to be energy efficient and retain the air that has been heated or cooled.

 
Health effects from hazardous indoor air quality and indoor air pollution range from minor irritation to seriously debilitating, depending on the set of contaminants and the situation. Health effects can include headaches, fatigue, nausea, dizziness, sinus issues, irritated eyes, and sore throats. The symptoms usually subside when the person leaves the contaminated  building or room.
Comfort and air quality inside your home go hand in hand, and Centerville Heating & Cooling goes beyond home comfort to offer healthier indoor air environments for all inhabitants. Many benefits of  better indoor air quality aren't just good for your health but also your pocketbook by increasing the efficiency and longevity of the HVAC system.  
Lowers Utility Bills
Many homeowners intend to keep their utility bills lower by turning off the air conditioner when they are cool and turning it back on when they're hot. Nevertheless, this doesn't work. Cycling the system manually is rough on the equipment and it makes the unit work harder. Upgrading to a newer AC will help improve air quality. The more efficient system enables you to keep your home cool in more cost efficient manner. Newer models are inexpensive to run compared to older systems, and can even end up paying for themselves in a fairly short period of time. 
Improves Sleep 
Better air quality improves our immune system and wont introduce as many contaminants to our bodies.. It also helps improve rest. Improved air quality helps reduce stress and improves sleep. Cooler temperatures enable us to sleep better. It's natural for our bodies to relax in well-cooled spaces, a good air conditioning unit that improves and effects our air quality goes a long way and helps us with the peace of mind the air were breathing isn't making us sick. 
Healthier Home Environment
People often take clean air for granted or don't realize the amount of contaminants in their air. Nevertheless, this changes abruptly when its demonstrable that their is an air quality issue in our home. The more contaminants that are present in the air in our homes, the more easily we fall prey to allergies, asthma and other respiratory sicknesses. Even small levels of indoor air pollution can affect our well being and stress levels. It prevents optimal health and energy levels. 
Remove Pollutants & Allergens
When we are allergic to something, it's our body's natural way of saying it can't tolerate whatever it's being exposed to or breathing in. This indicates, the more you are exposed to airborne allergens, the higher likelihood you are to become ill. Proper air quality enables the body to recover quicker without risking falling ill again.  
If you're experiencing issues with your indoor air quality in Centerville, OH, don't hesitate to call. We're ready to help!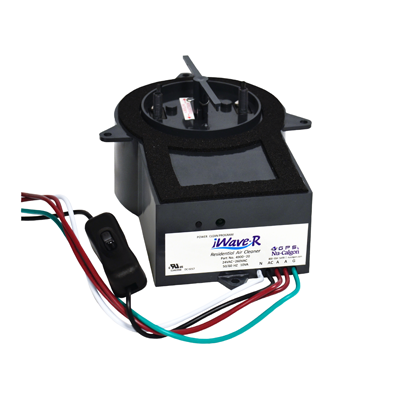 Featured Product: iWave-R Air Purifier
The iWave-R is a relatively new technology that stands out because it's highly effective, affordable, and innovative when compared to all the indoor air quality products on the market today. The iWave-R neutralizes and kills airborne viruses, bacteria, mold, pathogens, and allergens while also eradicating other kinds of particles generating odors in the home.
Because of its size, price, and exceptional ion technology, it's proven to be highly effective in purifying the air in a home. One of the best things about this indoor air quality product is that it doesn't create any ozone byproducts due to the process and its self-cleaning, which makes it very low maintenance.
$899 iWave-R Air Purifier + Installation
Duct Cleaning *Limited Availability
Although the air duct cleaning service is only available during certain times of the year, we offer air duct cleaning, or ductwork cleaning, to help Greater Dayton area homeowners improve indoor air quality and breathability of the air in your home. 
Using specialized tools to dislodge debris and dirt built up in the ductwork, our technicians will perform a thorough cleaning of your home's air duct system. After dislodging anything, we also perform a thorough sanitization procedure to effectively wash away and clean up any contaminants and debris left behind. During this process, we will check your air filter and change it as needed in addition to performing a final test to determine system performance and ensure thev HVAC system is working properly. 
Warning Signs of Poor IAQ
Frequent Allergies & Illness
The largest reason homeowners should consider their indoor air quality is the affect that poor air quality can have on them and all other members of the household. The EPA says short-term symptoms of poor indoor air quality include eye, sinus, and throat irritation, as well as fatigue, dizziness and headaches. Inadequate air quality and air cleaners in a home also aggravate pre-existing respiratory conditions such as asthma. 

Dust Buildup on Surfaces
A lot of airborne pollutants are heavier than the air. Because of this, they will not stay suspended in your home's air floating around forever. Poor indoor air quality can lead to more frequent dust buildup on the surfaces around your residence. If you are finding you have to dust more frequently than normal, you might need to consider whether or not your HVAC system's air filters are enough for your air supply. 

Musty Odor
Musty odors are valuable signals of mold growth. If the smell is more obvious near the vent registers or while your HVAC system is running, it's a major red flag. Mold produces a musty odor because it releases organic microbial compounds and bacteria that are volatile and decompose as it is exposed to hot and cold air. 
If you're experiencing issues with your indoor air quality in Centerville, OH, don't hesitate to call. We're ready to help!
Big Savings on HVAC Services in Centerville, OH
$299 Wi-Fi Thermostat + Installation
Save $100 | Regular $399
$399 Whole-House Air Cleaner + Installation
Save $100 | Regular $499
$399 Blue Tube UV Germicidal Light System + Installation
Save $100 | Regular $499
HVAC Financing
Buy Today, Pay Over Time with HVAC Financing
To help you pay for your new home comfort equipment, your local HVAC specialists have a rapport with numerous lenders, creditors and financial institutions to help you maintain your comfort levels year-round and make monthly payments to pay off the new equipment efficiently in a period of time that works best for you.
What are symptoms of poor indoor air quality?
Symptoms of poor indoor air quality include health issues such as fatigue, shortness of breath, sinuses, headache, dryness, shortness of breath, dizziness. Unusual odors are another sign of poor air quality in addition to having to replace air filters a lot more often than normal. Other symptoms could be related to humidity levels and include static electricity and problems sleeping. 
How can I improve indoor air quality?
First you'll want to test your air quality. Then, you look at source control. Typically, the most effective way to improve indoor air quality is to remove individual sources of air pollution in the home or at least reduce their emissions. Some sources, like those containing asbestos, can be enclosed or sealed. Other sources, such as gas stoves, can be adjusted to reduce the amount of emissions. 
Why is indoor air quality so important?
When we breathe polluted air things that aren't good for us get into our lungs. From there, these harmful substances can enter the bloodstream and be carried to our internal organs such as the brain. This can lead to severe health issues like asthma, cardiovascular diseases, breathing problems and even cancer. Over enough time, if air quality is poor enough, it can reduce the quality and number of years of life.